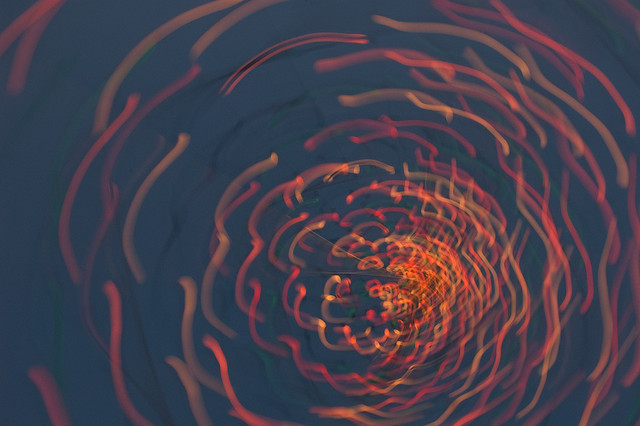 The limit of communication using light isn't its speed, but the number of ways of encoding and decoding information using photons. Today's fiber optic communications rely on light of different wavelengths to carry data from multiple sources carried along the same cable: each distinct signal is carried at a separate wavelength, which are then separated at the receiving end. A second method uses the polarization of light, which relies on two distinct ways photons can spin around the direction of motion. Sending two signals that differ only by polarization doubles the rate of data transfer.
A third method involves manipulating the shape of the photons themselves: twisting the light's wavefront into a ring, so that the photons rotate rather than merely spin around the direction of motion. The size of the ring is independent both of the wavelength of the light and the polarization. In principle at least, it has no limit to the number of possible configurations. Researchers Jian Wang et al. achieved terabit (Tbit/s) data transfer rates over open-air distances of about a meter, through combining four beams of different rotations (channels). They demonstrated both the generation and receiving of distinct data from the different channels (multiplexing and demultiplexing), using a laser beam of a single wavelength to generate all of them. While this result is not currently usable in fiber optics, it's a significant step toward exploiting a thus-far unused property of light to increase the rate of telecommunication.
Electrons in atoms have three distinct quantum properties: their energy level, their orbital angular momentum, and their spin angular momentum. Angular momentum in the macroscopic world can be thought of as how difficult it is to stop a spinning object. Microscopically, it dictates the kinds of transitions that are possible between different quantum states within the atom. This gives rise to the unique spectrum different elements and molecules possess. Orbital angular momentum, as the name suggests, depends on the orbit of the electron, but spin is a property of the electron alone.
Read 8 remaining paragraphs | Comments