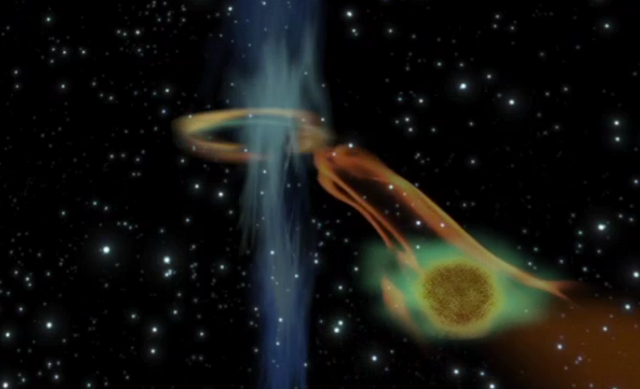 Black holes have a fearsome reputation that's only partly justified. The maw of a black hole is indeed a potentially destructive thing, but most matter—including gas stripped from nearby stars—is not destined to end inside the black hole. Instead, a lot of it ends orbiting the black hole, and the energy that's released by the material that is getting swallowed blasts a lot of material back out into space. So, black holes don't simply devour every object that comes near them.
All of this makes a new observation particularly interesting. Astronomers M. Nikołajuk and R. Walter caught a black hole in the act of destroying and consuming part of a large planet or small brown dwarf. This event involved a supermassive black hole located in a relatively nearby galaxy, and emitted a burst of intense X-ray light that fluctuated over a short time span, then faded. The flare and its aftermath behaved as expected if the black hole disrupted an object at least 14 times Jupiter's mass, then consumed about 10 percent of the gas that once was part of the object.
In 2011, astronomers using the INTEGRAL (INTErnational Gamma-Ray Astrophysics Laboratory) gamma ray telescope discovered a strong source of emissions coming from the galaxy NGC 4845. Follow-up observations using INTEGRAL along with other gamma- and X-ray telescopes confirmed the flare was located within the central region of the galaxy, where the supermassive black hole resides.
Read 9 remaining paragraphs | Comments