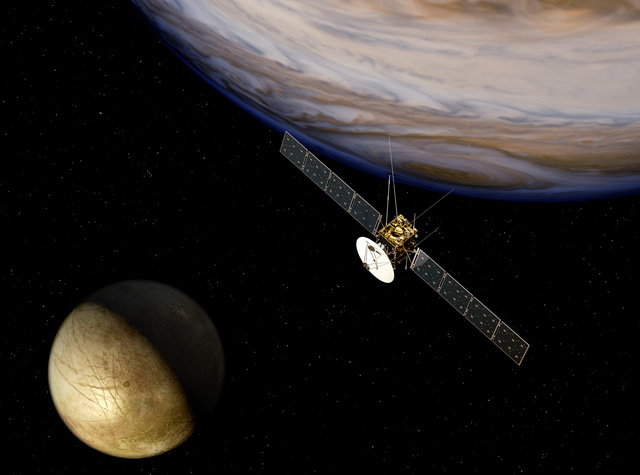 The European Space Agency announced last week that it has chosen the Jupiter Icy moons Explorer, aka JUICE, as its next large science mission. JUICE was chosen over the New Gravitational wave Observatory (NGO) and the Advanced Telescope for High-Energy Astrophysics (ATHENA) by ESA's new Cosmic Vision 2015-2025 program.
JUICE will launch about ten years from now, and won't arrive at Jupiter until 2030. JUICE's solar-powered ion drive means the spacecraft will require more than 25 gravity assists. A stronger energy source could get it there faster, but as an ESA-only probe, JUICE doesn't currently have access to the roughly eight pounds of plutonium it would need to power its ion engine to Jupiter much more quickly. Both NASA and ESA are trying to solve the plutonium shortage for future spacecraft.
Upon arrival, JUICE will study Callisto first, imaging the moon's surface. It will fly on to Europa, making two passes, before orbiting at Ganymede, mapping its unique magnetosphere, imaging the moon's surface, and attempting to determine whether Ganymede has oceans underneath its water ice. Of all the moons in the Solar System, only Ganymede is known to have a magnetosphere, probably caused by convection within its iron core.