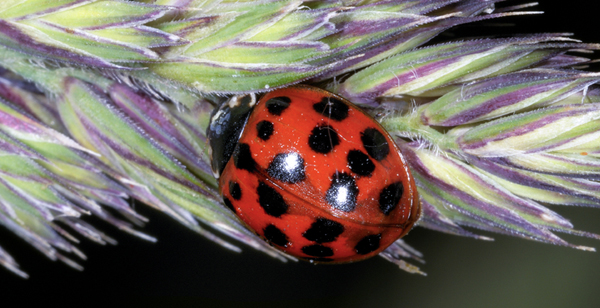 Invasive species have become a problem on nearly every continent, where native species that may have had millions of years to adapt to their environment are somehow trivially displaced by a species that originated somewhere else. How is it that the invaders can be so phenomenally successful against what should be a well-entrenched competition?
A new study shows that in at least one case, some insect invaders engage in a bit of biological warfare, carrying a fungus that kills their competitors (the host can tolerate the fungus). The fungus spreads because of a nasty habit the insects have—namely that they tend to eat each others' eggs. Somewhat ironically, all of this goes on in a species that tends to have a friendly reputation: the ladybug (or ladybird, for the anglophiles among us).
The invasive species in question is an Asian ladybug, the harlequin ladybird Harmonia axyridis. Because of its fondness for agricultural pests (fondness in the same sense that I have a fondness for lobster) Harmonia has been introduced to some countries where it wasn't native. When the invaders were introduced, the native ladybug species dropped like flies (pun intended), being easily displaced by the new arrivals.
Read 6 remaining paragraphs | Comments