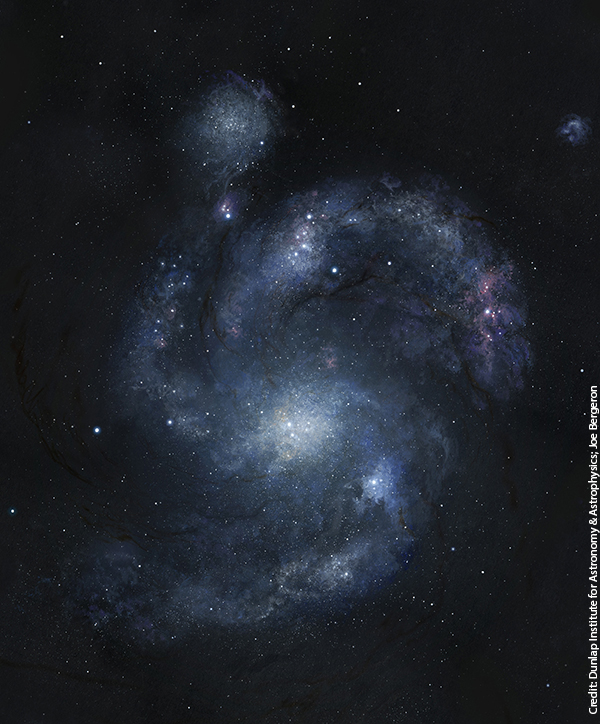 Spiral galaxies are common in the modern Universe: more than 75 percent of large galaxies are spirals. However, at cosmologically significant distances, they appear to be less common, indicating either that the conditions were wrong in the early Universe to create spiral structures, or current telescopes aren't good enough to distinguish the arms at those distances. A new observation has revealed a spiral galaxy about 10.7 billion light years away, the first unambiguous discovery of that type of galaxy from that cosmic era.
Using data from the Hubble Space Telescope and the Keck telescope in Hawaii, David R. Law and colleagues characterized the object labeled BX442 as a "grand design" spiral galaxy. In grand design spirals, the spiral arms are clearly defined and wind significantly around the galactic center.
The authors turned up BX442 in a survey of 306 galaxies at a similar distance from Earth, but it was the only one with obvious spiral morphology (the technical term for the general shape a galaxy takes). While a second galaxy, HDFX 28, appeared spiral in another sample and is approximately as far away, its spiral shape may be an illusion, based on the angle at which it appears to us. Even if HDFX 28 is truly spiral, the apparent number of spiral galaxies at that era in the Universe's history is still small.
Read 6 remaining paragraphs | Comments